---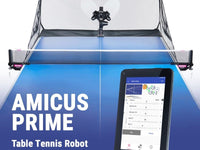 Sale
Prime = No Compromise | Recommended for Professional Players
YouTube Video: https://youtu.be/9sDV6SJWDFo        

If you want the BEST table tennis robot, this is it. Prime = No Compromise.  Create and save virtually unlimited number of custom drills. Place drills in any order and give them custom names. Search customized drill descriptions or titles to quickly locate the drill you want.
Special features of AMICUS PRIME:
Ball frequency of up to 120 balls per minute. Spin type, spin amount, speed, trajectory, and placement can vary from ball to ball.
Control the robot with the application on tablet (or user supplied Android or iOS device). Tablet connects wirelessly to robot via Bluetooth.
Software and firmware regularly updated with help of the app. Several robots may be operated by one device (consecutively).
Tablet can be re-charged directly from the robot with the included cable.
Use the Mirror button to reverse drills to match your dominant hand so forehand/backhand placements are correct.
3rd ball attack training with serve detection to know when to release the first return.
Randomize placements, size of landing spots, and/or ball types to create game-like training routines.
Test individual balls within a drill by using the Sample button.
Customize the time interval between any two consecutive balls with the Individual Frequency Control (IFC).
Easily incorporate interval training into your table tennis practice sessions with the Cycle function.
Pre-programmed with 21 drills created by German Butterfly Coach Richard Prause. Pre-programmed drills can be modified or replaced.
Learn proper technique by watching the integrated videos that demonstrate a top player properly practicing each pre-programmed drill.
Sequence together several drills so they run automatically one after the other or randomly.