---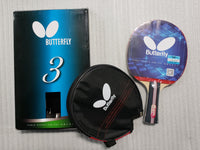 Medium Speed & Spin with A Hard Feel | Recommended for Beginning Level Ping Pong Players
The Butterfly B302 Shakehand Table Tennis Racket is designed to offer a great foundation of speed and spin. The 5-ply construction offers a medium feel for sufficient power and touch. Yuki has a slightly hard sponge, and its tacky surface offers a bit more spin than speed. The tacky surface imparts a nice amount of spin on all shots.
Blade Construction: 5 Plywood
Handle: Flared - The Most Popular Style
Rubber: Yuki - Sponge Thickness (mm): 2.1 & Rubber: Yuki Sponge Thickness (mm): 2.1
Recommended for Beginning Level Players
Attractive Gift Box Set & Includes A Free Racket Case
PLEASE NOTE: Like most recreational rackets, this racket is assembled with a glue that is intended to keep the rubber permanently attached to the wood for the life of the racket.