---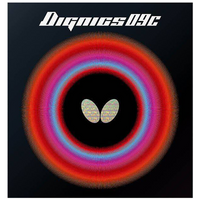 DIGNICS guides your play to a more advanced level. 

The essence is the combination of Spring Sponge X, the advanced version of Spring Sponge which has more elasticity; the uniquely composed top sheet, with strengthened abrasion, proves great resistance on the surface, providing the feeling of holding the ball at impact. 

This is even more true with the newest addition to the line, Dignics 09C. Compatible friction and a high level bounce is realised thanks to the synergy effect between the original top sheet and a rather hard Spring Sponge X (a little harder than Tenergy 05 Hard), to bring out the features of a friction rubber while upgrading the High Tension effect. The pimples code No. 209 delivers topspin and defensive play with high amount of spin as well as ease of over-the-table techniques and counter topspin. Dignics 09C, with the upgraded friction High Tension features, guides a player who expects the unique feeling of a friction rubber to new heights. Dignics 09C, Overpowering Evolution. 
SPECIFICATIONS:

Class:

 

High-Tension Pimples-in
Surface:

 

Inverted
Speed:

 

13.0
Spin:

 

13.0
Density:

 

44
Made in Japan
Rubber Specification Chart