---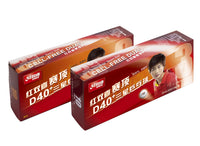 New Plastic ABS Material with  seam | Recommended for International Competition Tournament
DHS 3-Star D40+ Balls are the balls used for in most national and international competitions.

This plastic seam ball is created from a new type of optimized ABS material which provides a good bounce trajectory.

Higher standards, more precise roundness, better flexibility, better resistance to hitting and enhanced durability.

This ball is ITTF approved and is used in most international ITTF competitions.