---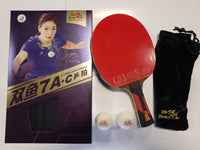 Powerful Speed & Spin with medium Feel | Recommended for Intermediate to Advance Players
Double Fish Premium Table Tennis Racket 7A with Ayous core and Wenge surface
Speed: 9      Spin: 9.5      Control: 8.5
Suitable for close to table fast attack play.

The Double Fish 7A series Table Tennis Racket is designed to offer a great foundation of spin and power. The 5-ply construction offers a direct and solid feel for sufficient power and touch. Rubber FL233 has a slightly hard sponge, and its tacky surface offers a better spin and speed.  Rubber Valent 2 has a slightly medium sponge, and its tacky surface offers a better control.
Blade Construction: 5 Plywood
Surface: Wenge; Stress Layer: Spruce; Core: Ayous
Handle: Flared handle
Rubber: FL233 Red & Volant 2 Black 2.1 mm thickness.
Recommended for Intermediate to advance Level Players.
Attractive Gift Box Set and Table Tennis Bag and 2 balls including.
International Table Tennis Federation Approved: Code 23-005 / 23-013
 This racket is assembled with a special glue that is intended to upgrade the rubber whenever it is necessary.