---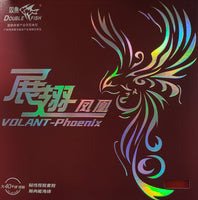 Sale
Recreational Series| Recommended for OFF+ Players
The rubber adopts the new internal energy technology of NEW RELEASE PRO, which makes the performance of the sponge maximally.  The rubber is in a factory-boosted stage for a long time and still achieve good effect without further oil or glue filling.   The super effectiveness and rotation of the rubber, coupled with the support of the new internal energy sponge, the feeling of playing ball, explosive power, perfectly combine rotation and strength. 
Rubber Type: Smooth
Speed: 85
Spin: 90
Control: 95
Sponge Hardness:  39; 40; or 41degree (China Version Spec)
Generally, more softness (39 degree) in the sponge means more control.  More hardness (41 degree) means more power.  It is absolutely your choices.