---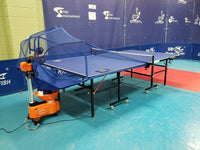 Ping Pong Workout Station | Recommended for Professional Players
Fancy Workout Station for the versatile players who desire more,
As more and more scientific and medical researches proven that table tennis has numerous benefits for the mind, body and soul.  It is a good reason to have your own workout station in your house basement or garage to work out everyday.  
The whole set of Workout Station Set 2 is including of the following:
Saving freight charge a lot when it is ordered the whole set instead of one by one soon or later.
Total: $2,128.00